Welcome to Klädesholmen Seafood AB
Already in the 16th century, Klädesholmen was a well-known fishing village outside Tjörn. The site's strong connection with the herring has been apparent for many hundreds of years.
In generation after generation, we have developed the herring to a delicacy.
Now the remaining families are joined under the brand Klädesholmen in order to preserve the Swedish herring tradition.
Today we are running a modern business that is still based on our long tradition in the industry, a unique sense of raw material and the close customer relationships that only a family business can offer. Here on the website we have gathered information we hope you as a customer will benefit from.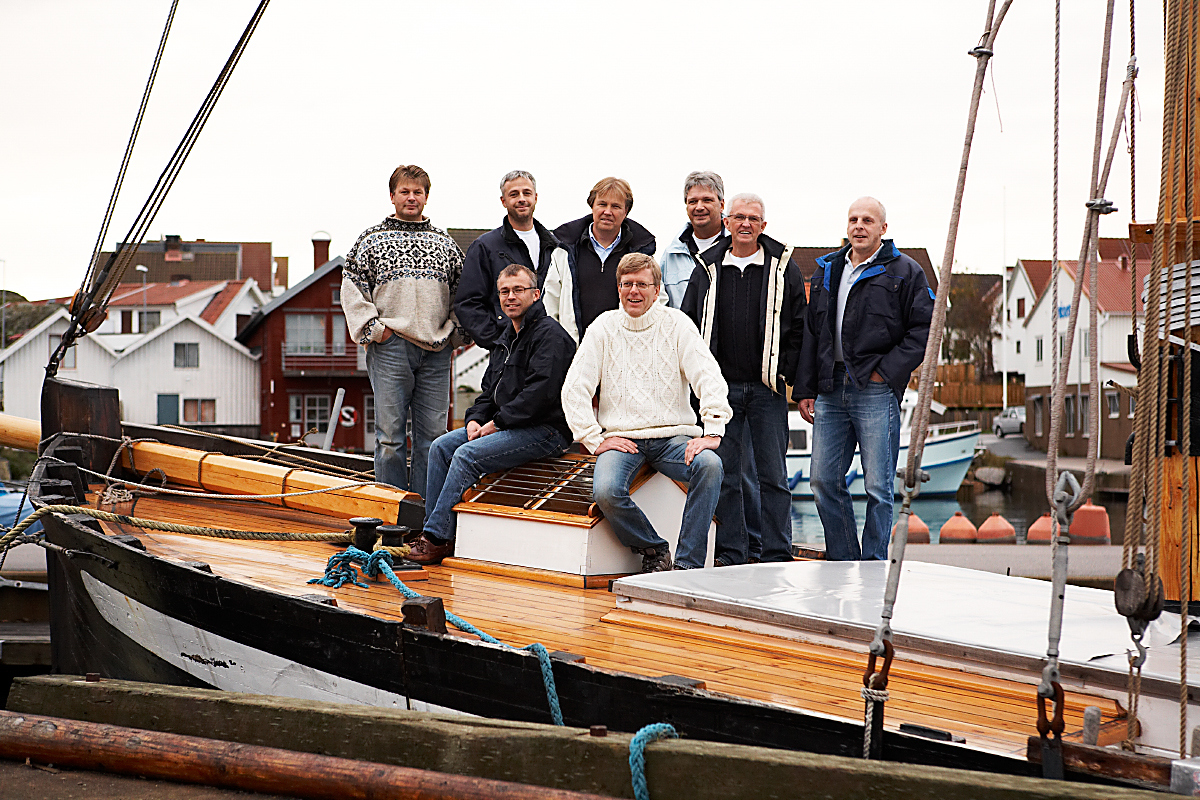 Herring tradition since 1594
Klädesholmen Seafood AB is a modern company based on generations of knowledge and experience.
Previously, we were four independent actors; Alax, Bråse, Klockbojen and PK. In order to grow stronger and expand our market opportunities, we decided in 2002 to merge into a joint venture called Klädesholmen Seafood. This created a modern company with greater production capacity – well equipped to meet the ever increasing demands for efficiency, quality, flexibility and market development.
Unique taste experiences
As a manufacturer at Klädesholmen, we have strong local anchorage. We take care of the old unique recipes but at the same time we have the capacity and efficiency to deliver quality herring to competitive prices. We can offer a unique flexibility and service level for our customers, even if you have special needs. We also want to offer unique taste experiences to those who do not enjoy less than the absolute finest ingredients. Our vision is simple: Klädesholmen will be the leading producer of herring delicacies.
To achieve this, we are based on four pillars:
We are the genuine herring company
The alternative to the foreign-owned competitors.
We tailor the concept
We can be flexible and tailor-made products, concepts and business solutions for each customer.
We have herring competence
Which extends through the entire chain from the sea and the boats, where the best herring comes, how it is to be handled, stored, spiced, and packed and for distribution and dining at the dinner table.
We offer taste experiences
We will be an innovative source of inspiration for our customers and consumers who manage and renew the herring culture for the future.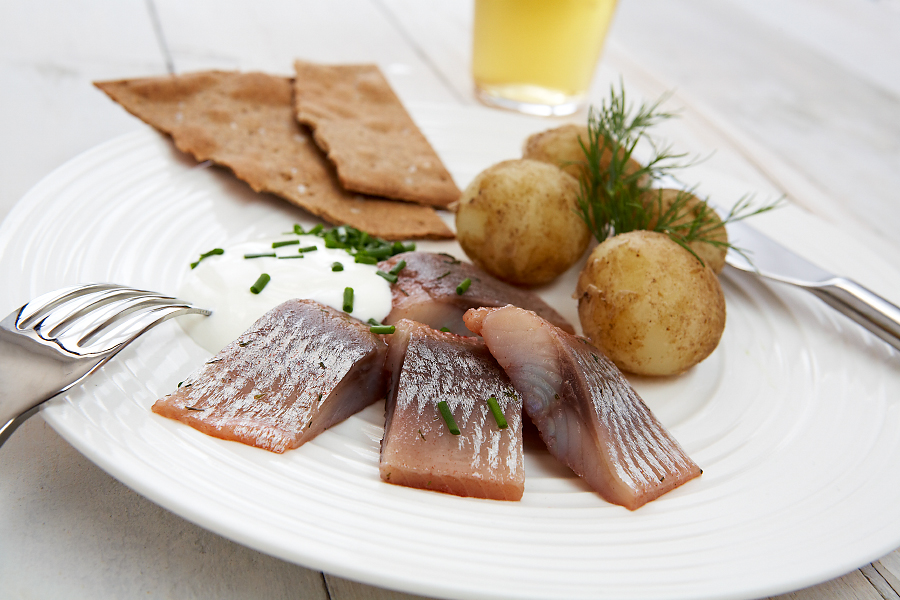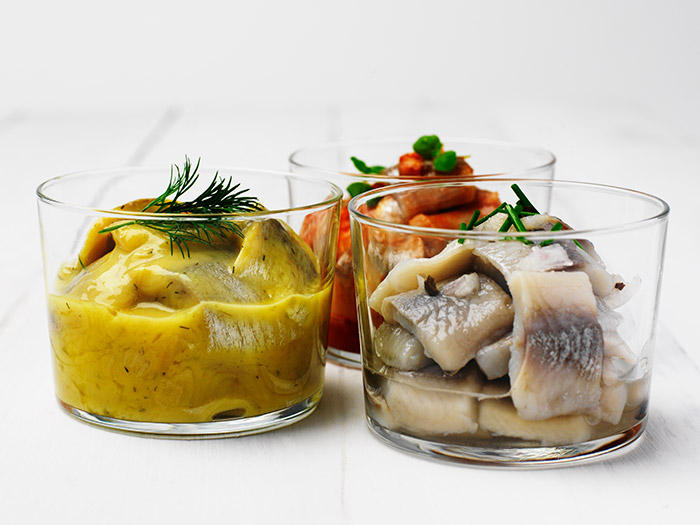 By expanding our knowledge with modern innovation, we want to challenge the market with attractive herring and caviar concepts.
We will be a popular, flexible and profitable business partner. We want to give our customers a taste experience of the West Coast at its best.
Even though we have grown, we are doing business in the same spirit as our former family companies. With owners who actively participate in both production, purchasing and sales, we can maintain great flexibility and tailor-made solutions as the needs change.
Quality work
Our role is to further improve our recipe and traditions by adapting them to a new era of quality and safety. Our quality work is based on customer expectations of product safety and legality.
Our quality management system is based on FSSC 22000 which is an international standard for safer and more efficient food production. It helps us keep staff, equipment and methods in constant development. In close cooperation with our customers, our products and services will be developed and improved throughout the chain from sea to plate.
Quality already begins in the sea
Our raw material may only be fished in fresh seas and subject to approved quotas. In the fall when the herring is at its best, it is fished in Skagerrak by Swedish West Coast fishermen, but also in the Norwegian Sea, where there are really big herring stocks. After filleting and removal of the skin, which is done completely mechanically, the herring is mixed together with salt, sugar and our chosen spice mixture and put in a barrel. When the maturing process after a few months makes the herring soft and tasty, we open the barrel for a first sensory check before it is emptied onto the conveyor for visual check and then further to production. The herring is then put in packaging together with selected spices and vegetables. Before closing, we fill the cans with our special sauces that are made according to old traditional recipes. We produce a lot of our herring automatically with machinery, but some products can only be done by hand. Then skillful hands take care of the spicy fillet and cut it into pieces before it is placed in the glass in an appetizing pattern.
Quality control and certification
Quality is important to us. We are not satisfied with the requirements of the EU law on food production, but we want to surpass them. Since the last couple of years, we are certified according to the FSSC standard, which imposes rigorous demands on both raw materials, equipment and personnel. The various packaging lines are monitored by various automated controls, but above all by our own quality controllers whose familiar eyes look if something is wrong.
Certificate
Klädesholmen Seafood AB works on the basis of FSSC 22000 which is an international standard for safer and more efficient food production.
– Including ISO 22000:2005, ISO/TS 22002-1:2009 and additional FSSC 22000 requirements.
We also work from the ISO 14000 environmental management system.
We use mainly MSC-labeled fish to promote sustainable fishing. The salmon we use in our salmon spread comes from an ASC-certified salmon pisciculture.
For the US market, an FDA certificate applies.
– Certificate of Registration by Registrar Corp
Total traceability
In recent years, we have invested heavily in meeting increasing documentation requirements. All production is recorded in our computers to ensure full traceability. This is now about content as well as packaging. If an incorrect raw material is discovered, it is very important to be able to distinguish all products that it may be included in. As a buyer, you should be able to rely on the system to guarantee safe and legitimate products.
Full control all the way
The nice marine raw materials we work with require careful handling. Therefore, we follow up the entire manufacturing process using a careful quality management system where each ingredient and packaging can be traced. The production at Klädesholmen is built around five efficient and highly automated lines: Matjes, caterers, tubes and two lines for consumer glass products. Some products, such as matjes herring fillets, are still packed by hand. It is a qualified precision work that requires just the craftspersonal staff we have been here for generations at Klädesholmen.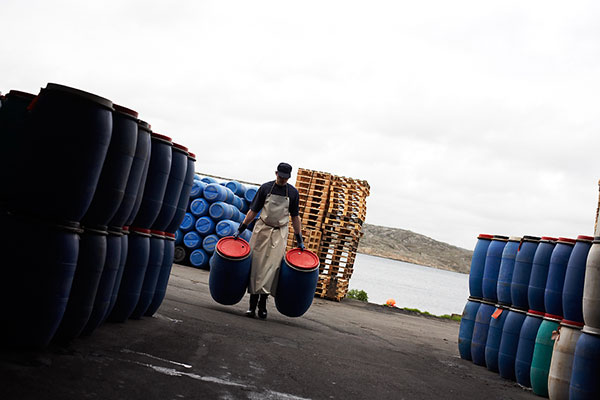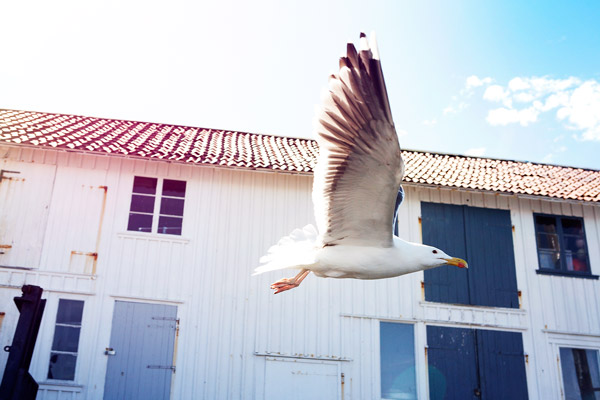 Environmental responsibility is important to us.
Just like humans, herring needs fresh sea and nature.
We live from our ocean and it is natural for us to contribute with what we can.
Klädesholmen Seafood AB is a producer of fish products dependent on a prosperous marine environment. Our aim is to tailor the entire business so that it is in balance with nature and people in cooperation with our suppliers and customers. We will develop our environmental work, reduce environmental impact and maintain with our world's natural resources and therefore demand all parts of the chain. One example is that our fish waste is used to produce methane gas used in bus traffic, thus contributing to lower emissions.
This is our environmental policy
We will pursue our environmental work based on the goal that the requirements imposed by law and government are a minimum requirement, a lower limit. We will educate our staff on environmental issues and encourage environmental awareness. We will consider environmental issues in the development of new products and in the selection of suppliers. We will work for sustainable environmental solutions through development and technological innovation. We will show great openness in environmental issues.
Private Label
A large part of our production is sold to customers who market and distribute the products under their own brand, such as Private Label. Are you one of these customers, or do you have any plans to market fish products under your own brand? We can tailor products and solutions to your needs. We are big enough to be effective, but not bigger than we can offer flexible production. Our long experience and extensive knowledge of herring and herring products can be the competitive advantage of your company. Welcome to contact us if you have questions about Private Label solutions.
Consumer
In our range of consumer articles, you can find everything from 100 grams of cans with anchovy fillet to 630 grams of glass cans with herring fillet put by hand or crayfish marinated herring.
We have a standard range of 250g and 550g cans with several exciting flavors such as Curry herring and classics like Onion herring and Matjes.
Our premium range consists of carefully selected and hand cut fillets and pieces in sauces like crayfish marinated and Black Currant.
Klädesholmen was the first in business to replace the canister and present the round plastic package of 200g with Matjes. This packaging is one step in our quest for a lower environmental impact. We also use plastic packaging for "Inläggningssill" and "5-minute" herring for those who want to make their own entries.
The caviar from Klädesholmen is praised on the west coast where it has been part of the breakfast table for generations. The caviar has a high roe content and mild smoked flavor, making it suitable for both large and small.
The herring should not only taste good, it should also look attractive in the packaging. This requires the herring to be inserted into its glass jar in a special way that looks extra appetizing through the glass. These patterned products can't be made by any machines, it can only be accomplished with the use of genuine crafts, and there are only a few "Silletöser" who master the art.
One example of this is the "Lunch herring", which is added in a beautiful glass.
Restaurant & Caterers
With our large-scale range, we turn to quality-conscious kitchens and reputable restaurants as well as to fish retailers. Sales are made through many different fish wholesalers both inside and outside Sweden.
In fact, we are one of the largest suppliers of herring fillets and deposits to many talented chefs and conscious fish dishes around the country. Those who meet the end-user face to face just want to offer the best. Our main responsibility is to manage the trust these customers have for us and make sure they always get what they expect:
Products with high and even quality
Fillets in the size the customer wishes
Tasty entries
Classic, traditional products
New flavors
Raw material fished from safe stock
Quality assured products
Cooperation
There are many reasons for wanting products under your own brand. Their own brand often provides a good quality guarantee to a dedicated or specific target group. It can also be if you want to focus on its core business and therefore outsource manufacturing. Those who choose this solution usually do not have their own manufacturing, which makes it extra important for good relationships and close cooperation with a reliable supplier.
We capture the needs
At Klädesholmen, we are responsive both in terms of service and requests for new products. Through our long tradition of always working with high quality, we enjoy great trust among larger as well as smaller wholesalers. Some of our collaborations have lasted for almost fifty years and our ambition is to continue building long-term relationships in Sweden as well as abroad.
Market demands increase
As one of the leading Private Label suppliers in the Nordic region, we collaborate with large customers on a national and international basis. We have business partnerships with many of the major food chains such as ICA, Axfood and Coop. We also have well-known distributors like Falkeskog and Kosterfiskarn. Among the caterer customers there are the various fish wholesalers in Gothenburg's fishing port, but also companies such as Dafgård and Servera.
These customers choose long-term partnerships with us, for the following reasons:
That we can tailor attractive products
We have a high degree of flexibility
We have solid product knowledge
We have affordable products
Seal of approval
The label with "Klädesholmen" denotes our herring of the highest quality. If the label is labeled Klädesholmen ALAX, it means high quality herring at a favorable price. Some entries are also sold under our customers' own brands (see Private Label). You can still recognize the product from Klädesholmen through the manufacturer's code on the packaging. If it is SE 917, the product comes from Klädesholmen. Then you know that it meets high demands on quality and taste.
Internationally
Our customers and consumers are located in our home market in Scandinavia and also in the international arena. Germany, Russia, Australia, Japan, Canada and Israel are some of the countries where we put the Swedish herring on the map. To many of these customers, we deliver both our own brands and customers own private labels.
Storkökskunderna
Bland storkökskunderna finns de olika fiskgrossisterna i Göteborgs fiskhamn, men även många andra grossister över landet som Dafgård, Servera och Menigo.
Saluhallar & delikatessdiskar
En väsentlig del av våra produkter och halvfabrikat går via fiskgrossisterna vidare till restauranger, delikatessdiskar och saluhallar i hela Sverige. Deras skickliga kockar slutförädlar sillprodukterna från Klädesholmen och ger dem sin personliga prägel. Faktum är att de flesta av Sveriges välrenommerade fiskdelikatessbutiker använder sig av våra produkter till sina egna inläggningar.
Internationellt
Våra kunder och konsumenter finns både i Skandinavien och på den mer internationella arenan. Tyskland, Ryssland, Australien, Japan, Canada och Israel är några av de länder där vi sätter den svenska sillen på kartan.
Private label
Till våra kunder levererar vi både våra egna varumärken och kundernas egna varumärken s.k. private labels. Bland våra kunder i Sverige finns på konsumentsidan alla de stora livsmedelskedjorna ICA, Axfood och Coop, men också välkända distributörer som Falkeskog och Kosterfiskarn.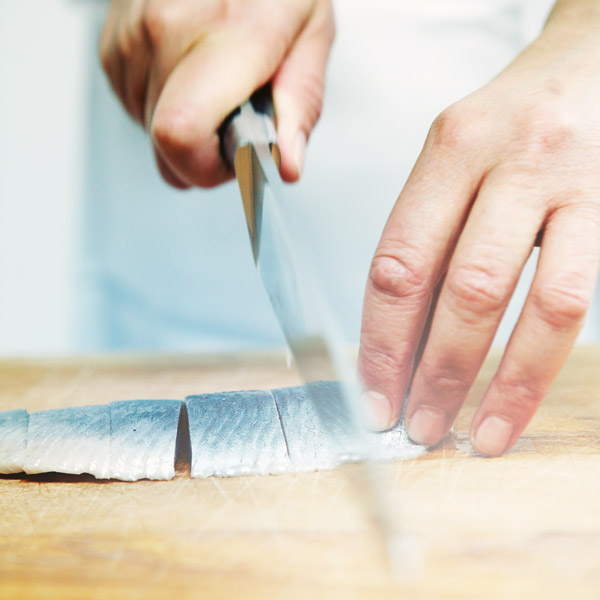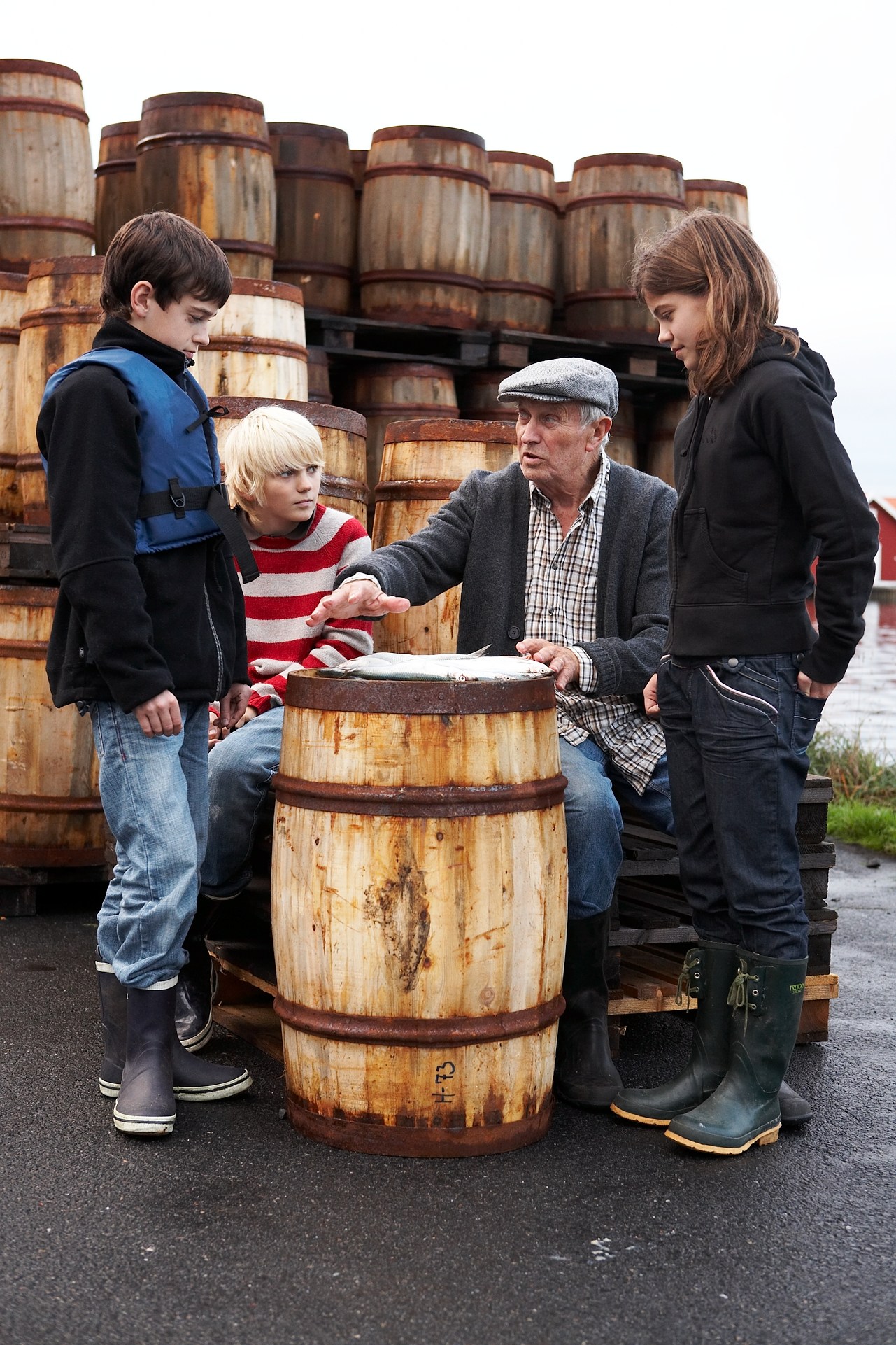 Together
We are prepared to care for our tradition as a family business with all its benefits of good relationships with customers, suppliers and staff. Maintaining a ground-level leadership with local anchoring is an important part of our quality philosophy. The merger has given us increased resources, greater market share and increased flexibility. It is also inspiring to drive a more powerful and dynamic company.
Together we have a solid legacy that provides broader experience, an even larger collection of recipes and the opportunity to continue the family's activities as in a large family. If you want to read more about the history of our family business and how Alax, Bråse, Klockbojen and PK Konserver started and became famous herring companies, click on the respective names below.
PK Konserver
PK Konserver was once called Pettersson & Karlsson
This family began its operation in 1922 when the inquisitors Charles Karlsson (who was called "Salteri-Idkarn's Charles" because his father had previously sold herring on Lilla Tjörnekalv) and Artur Pettersson bought the fishing vessel Mode. Each spring they left along the Göta Channel to Mälaren where they sold herring preserves in Enköping, Strängnäs and Mariefred. They did a couple of trips every summer. Started land-based manufacturing in 1945, when also their sons Rune Karlsson and Karl-Erik Pettersson joined the company Pettersson & Karlsson. In 1971 it became a limited company and the name was shortened to PK Konserver AB. The old factory became Herring museum when the company built a new factory in 1986.
Bråse & Söner
Bråse & Söner started in 1886
Anders Bråse moved to Klädesholmen in 1857 and he is listed in the list of Saltery owners in 1886. Eventually, his son Hans joined the business and they acquired his first herring boat Vega in 1896. When turnover increased, Bråse then expanded with the boats Elvy and Sälen. Their sales areas were along the beaches of Vänern, Vättern and in Göta Älv. In the 1920s, they also started land-based activities that took place in two different factories, where the sons Anders and Karl Bråse also worked. Also the following generation Bråse, Sture, Lennart and Sune operated manufacturing in two different factories, which continued until one of them burned in 1986, when everything was moved into the new factory the following year.
Alax
Alax is named after the founder
The operation began in 1924 when Albert Axelsson and his brother Wilhelm completed the summer's Shetland fishing from Dolly with sales of canned food during September-April. Their sales area was Ystad and Trelleborg. Wilhelm eventually quit and in 1939, the son, Rune Axelsson, joined the company, who received the name of the first two letters in the founder's first and last name. Albert took a driver's license already in 1934 and could drive the goods to the different households. In 1943 the production started at Klädesholmen and in 1980 a new factory was built.
Klockbojen
Klockbojen stared with herring saltery
The Brothers Anders, Bernhard and Kristian Svensson were called "Svensarna". They devoted themselves to herring and had a boat in the 1890s. Around 1915, Kristian bought a magazine on "Svarta skär". There, his sons Karl, Artur and Axel Kristensson continued to run Klockbojen's factory until the mid 50's. At the beginning they also sold herring with the boat Svea, which marketed their goods at the north of Mälarstrand in Stockholm. After a couple of years of interruption, Artur and Karls son, Folke Kristensson, started operating again in 1959. Artur was later released and Folke continued with Klockbojen's distribution car until Mats Kristensson took over.